I wrote a post before in which I talked about my love of eating breakfast foods all day long. Today was on of those days.
Pumpkin Oats with whipped banana for breakfast. An egg sammy for lunch. And the star of the show:
Pumpkin Pancakes with Vanilla Cream (aka Siggis!)
So good and exactly what I was craving.
By the way, look what happened to my favorite spoon in the midst of my cooking frenzy today.
Must find another one of these somewhere!
After going to the farmers market this morning to pick up some fresh foods (eggplant, brussel sprouts, 10 for a dollar apples, and a b-nut), I decided to experiment a little in the kitchen.
Manna Breads carrot-raisin bread was on my mind and the fact that all their breads are unsweetened with no added dairy, oil, or preservatives, I decided I wanted to make some Carrot Cake muffins with the same standards.
Here's the recipe I came up with (to the best of my memory):
Carrot Cakey Muffins
3/4 cup spelt flour
1/2 to 3/4 cup applesauce
7-8 pitted dates
1/2 teaspoon cinnamon
1/2 cup water (may need a little more if batter is to dry)
1 egg white
1 large carrot, shredded (I used my food processor)
2 teaspoons baking powder
Additional Mix-ins: coconut, walnuts, raisins, or anything else you think would be good
Preheat oven to 350. Put a thin layer of water in a sauce pan and bring to a boil. Add dates and cook until the mixture has thickened a bit. Added date-water mix to a food processor and blend until a thin paste forms.
Combine all ingredients into a bowl and mix together.
Pour mix into aluminum foil muffin tins and bake for about 20 minutes.
I was nervous about how these would turn out. But they came out pretty…GREAT! Naturally sweetened and with a doughy muffin consistency. A perfect fall snack.
Another perfect snack came from Nugo! They sent me four of their bars to test out  a while back.
Nugo is a company that makes nutritional bars for the whole family. Something kids and adults can enjoy and benefit from.
I received two bars from their Nugo Family Line:
The Vanilla Yogurt flavor tastes like a vanilla milkshake in candy bar form. Really sweet and crispy from the rice crisps. It reminded me of a chewy rice crispy treat. Loved all the protein this bar packed!
The Chocolate Peanut butter was a winner just for the fact it contained one of the best combos ever. I don't know if anyone had ever had a peanut butter rice crispy treat…but this bar tasted better than one of those sugar laden treats! The blend of chocolate and peanut butter was great.
I can definitely see how the Nugo Family flavors are more directed towards kid friendly foods. They are a good resource if someone is trying to introduce their into healthy eating. The sweetness level of these babies made them more of a desert for me, plus they are low in fat and calories so they make for a good after dinner option. The only thing I found about the bars that wasn't favorable were some of the questionable ingredients such as: corn syrup, fructose, and soy lecithin. <- not stuff I want to be eating everyday, but definitely fine for a treat!
One from their Nugo Dark:
Vegan, antioxidant rich, protein filled, made with real DARK chocolate, and not to mention delicious! Mint mixed with dark chocolate = love. The ingredient list on this bar was great and the taste was even better. The website compares this bar to a thin mint….and I would have to agree. The girl scouts better watch out!
And one from their Nugo 10 line: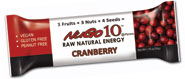 My favorite of the bunch (but I am partial to raw fruit and nut bars :))! Sweet cranberries with an awesome mix of nuts and seeds makes for one heck of a bar. There aren't many cranberry fruit and nut bars out there so I was happy to try this one out. There are only 10 (real food) ingredients in this bar and the texture was very much like a larabar but with a more smooth consistency.
Thanks Nugo for introducing me to such a wide array of products!!!
**
Blog News: I am extending my giveaway until Monday night! So if you haven't entered already entered…go do it up! There are some awesome goodies on the line!
Hoping everyone is having a lovely weekend.
Kaila