WE MADE IT PEOPLE! WE SURVIVED THE END OF THE WORLD!!!
Hahaha….yeaaaah about that.
Well, in honor of "the world ending" I set out yesterday to conquer my farthest and longest run ever. I figured if the world was gonna end I might as well challenge myself!
*10.21 miles in 1:19 minutes*
And it definitely was a challenge! But so worth it!
I was so excited after finishing this run! My first double digit run EVER!
WOOO HOOOO!
******
I have a special treat for you all today! A round-up of some great Summer recipes from around the blog world + a little "Here Comes Summer" Giveaway at the end! Party time!
(note: all the pictures of the recipes in this link love post are from the respective blogs mentioned)
Angela's Raw Triple Berry Crisp
Berries just scream summer to me!  
Julie's  Cucumber Salad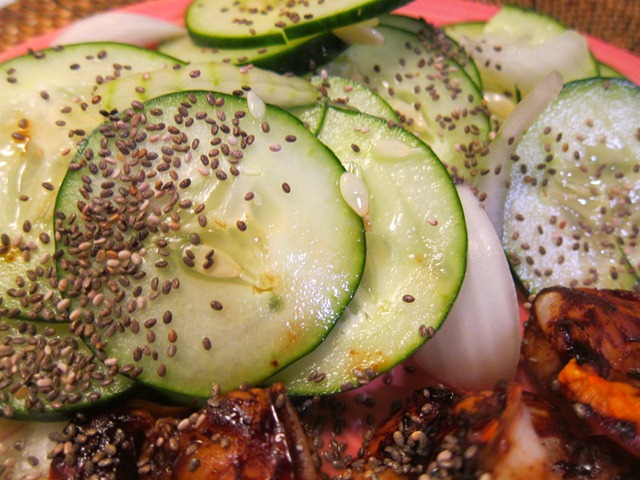 Cucumbers are so light and refreshing…perfect for summer! 
Erika's Blueberry Magdelena's 
Blueberries?!? Hello! The quintessential summer fruit! 
Kathleens Favorite Humus! 
Humus is the perfect summer snack food!  
Tiff's Mediterranean Veggie Bowl

A light summery salad!  
Tori's Portobella Mushroom Burgers
Perfect for grilling up on a nice summer night! 
Hollie's Pumpkin Enchiladas 

Hot summer weather always has me craving Mexican food! 
Carrie's Vegan Ranch Dressing

Perfect topper for all those fresh summer salads! 
Mama Peas Cake Batter Smoothie 

Cake. Batter. Smoothie? Nuff Said. 
Tara's Glazed Clementine Poppyseed Muffins
Clementines are so perfect for a little pick me up! And in muffin form? Even better. 
Christina's Shrimp Ceviche 
Shrimp is a great summer seafood. Grilled, baked, sauteed, or in a great salad like this!
And now a few of my own summer-y recipes! 
Kaila's Loaded Bowl 

Spicy Kale Lentil Burgers 
Strawberry Banana Scuffins 
Semi-Greek Salad
For Salad:
lettuce (as much as you want)
1/4 red pepper, diced
1/3 cucumber, diced
1/2 pear, sliced and diced
3 tbsp red onion, chopped
3 tablespoons feta
For Dressing:
3 tbsp plain greek yogurt
1 tbsp balsamic vinegar
2 tsp dijon mustard
MIx together and toss with lettuce. Then top lettuce with all toppings!
Yum I can't wait to make some of these amazing looking recipes! Heck, I can't wait for Summer in general!
Well why we're all waiting for Summer to get here….I have a little treat for all of you!
A GIVEAWAY! 
And there will be TWO winners!
The prizes up for grabs are:
Three Uncle Sam's cereals! (one winner)
Must Have Been Somthing I Ate by Peggy Kotsopoulos (review coming later this week!….but trust me, it's awesome!)
+any other fun stuff I decide to throw in!
Ways to enter:
Leave a comment telling me what Summer recipe sounds best to you!
Follow me on twitter and leave a comment telling me you did!
Tweet the following: @Healthy_Helper is having an awesome giveaway! Check it out!  http://healthyhelperblog.com/2011/05/22/summer-recipe-…nd-up-giveaway
Add me to your blog roll and tell me you did so!
Link back to this post in one of your own posts!
I will pick a winner on May 30th when I do a review of the book!
Good luck!