How is everyone this fine Wednesday day!?! I am doing good because it has been an absolutely beautiful day here! Wow, talk about a turn around! Two weeks ago it was snowing and now we are hitting 80 DEGREES! Awesome, right?
Well one thing is for sure….all this nice weather has been giving me the running bug. I came home from school today and went for an extra sweaty running in the sunshine!
Yeah I was pretty red after this one. But I am definitely not complaining! Bring on the heat and sunshine any day!
Well enough of my shweaty face……let's get on with the FOOOD!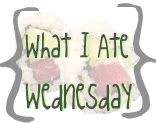 *breakfast*
*lunch*
*snack*
*dinner*
*snack*
Everything was delicious!
What was your favorite eat from today?
This post is gonna be double the fun because it's LINK LOVE♥ time too!
(this one is gonna be kind of a mini one, since the post is split between two topics)
A  must read! Jess from A Taste of Confidence posted about "fat shame" and how fat is perceived in our society! Her words are so great and TRUE! I loved this!
How about a really yummy looking falafel recipe!?! I think YES!
(source)
Carrie from Moves N' Munchies did a great guest post on fats (I'm seeing a trend here :)) and the importance they have to our nutrition and health! I love the visual she created about what fat is perceived as vs. what it actually is (FOOD!).
Found these vegan cinnamon-y treats on Little College Vegan and just had to share them because I love ALL things cinnamon. Especially baked goods!
(source)
I am now on Daily Mile! Be my fraaaaaaan (yes I mean friend)  if ya want!
Got any sites you've been loving lately? Link em' up in the comments….I'd love to check them out!
Oh and before I forget! Remember to enter my recipe contest! I haven't received hardly any submissions yet so for those of you who do enter you have a better chance of winning!
I will be sharing the prizes in the next day or two! The deadline is May 18th!!!
One day closer the weekend people….oh yes.