It's time! Wednesday once again folks! Time for the blog world to share their specifics about Hump day!!!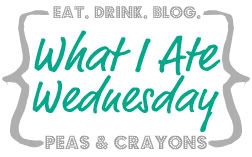 Thanks for hosting Jenn!
Not quite a full day of eats….but lots of other fun stuff from today to compensate!
Drum roll pleeeeease!
GO TIME!
What I Wore:
[don't judge…I am rockin' the summery outfits for as  long as I can
]
What I Loved:
ALL YOUR COMMENTS ON MY GIVEAWAY POST! You all really know all the good things in life. I wanted to share some of them with you all:
This is just a sample of the amazing stuff in the comments section! So go enter my giveaway if you haven't and make sure you check out the comments because they are so heartfelt!
What I Worked:
Just a quick sweat sesh because I work on Wednesday so I am SUPER busy!
What I Ate (more like what I've been eating lately!):
[whole wheat matzo with cottage cheese, basil, tomato paste, and tomatoes]
Such a yummy snack! Even though I am not Jewish I love when the grocery stores start carrying matzo because I like it so much! One of my friends let me try it when I was little and I feel in love! So thin and crunchy! 
[eggs with salsa and spinach+baked eggplant parm]
Eggplants from the farmer's market!
Just finished the last of my muffins today
Time to get creative in the kitchen again! When I get some time of course!
[pumpkin yogurt with raisins]
Kind of random….but all this stuff is quick and easy! So it works! Especially for week days. Weekends are when I can be more GOURMET!
What I Watched Wednesday:
Three shows I AM LOVING!
Comic relief is definitely needed to get me over the hump of the week!
Plus a little drama for good measure!
Tell me:
Favorite snack as of late? I need inspiration!
Favorite Fall Show?
Favorite Fall Fashion?
Have you entered my giveaway yet? (you don't have to answer…just do it LOL!)
Kaila
Subscribe on the side. Follow me on Twitter. Ask me on Formspring. Friend me on Daily Mile. 
Q and A post coming up next so last chance to ask your Q's!!!!
17 responses to "A Little Bit of Everything Wednesday"