I guess you could call this a WIAW….or at least the closest thing you're gonna get to it! 🙂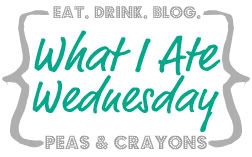 Second day of classes complete and I already have about 7 assignments. I actually fell asleep last night…on the floor….reading my Islam book. Not cute.
Needless to say college is a lot of work. And that means that you need lots of quality fuel to keep your brain focused and functioning. So this leads me into the topic of…FOOD.
What exactly have I been eating? How's the dining hall? All that sort of stuff!
To be honest, it has definitely been an adjustment to go from having to time cook whatever I want 24/7 to having to eat quick meals between classes and studying. I have already mastered the art of microwave cooking and am pretty sure I've been eating enough yogurt to keep the yogurt companies in business all on my own (Oh, hey Chobani!).
I've been eating a mix of dining hall food and food prepared in my dorm. (sadly, I don't have pics of the dining hall food right now, since I don't want to whip out the camera in public just yet)
Some dorm room creations:
I have been keeping some staple foods in my fridge for snacks and supplements to the dining hall food. So far I have things like:
yogurt
almond/flax milk
carrots
humus/dip
salsa
tomato sauce
beans/tuna/turkey
cheese sticks
nut butter
a ton of different cereals/oatmeal
crackers
a boatload of bars
carton of egg whites
The dining hall doesn't have a ton of healthy options (think italian station, sandwich station, fried food station)…but I have been grabbing different things from a bunch of different areas, including the (small) salad bar, and then adding things from my dorm to make it a complete meal! I'm sure I will be able to come up with even more quick combo's and throw-together meals as I get more used to my new routine and work load!
Well, this is just going to be a short post since I have to get to some reading before class this morning! But I will be back later this week with a fun review and a giveaway! So, look out for that!
Oh and I also went to my first organizational meeting yesterday for student government! It was awesome and I really can't wait to get more involved! Hopefully I get elected as a senator…gotta start campaigning!
If any of you college veterans out there have any tips for eating on the go, quick meals, or good foods to keep on hand…let me know!!! I am looking for all the advice I can get!
Kaila 
Subscribe on the side. Follow me on Twitter. Ask me on Formspring. Friend me on Daily Mile. Follow me on Pinterest. Like me on Facebook.
Today's Healthy Help: Yesterday I helped some people navigate their way to Wegmans who were unfamiliar with the area! Looks like I'll be playing tor guide a lot on campus! Fun! 🙂
13 responses to "College Food and Dining Hall Dinners (WIAW?)"