Well, I don't technically have a fever but I certainly am HOT!! Mostly because of this:
The cracklin' fire
We're spending the evening relaxing by the open fire and of course…..goofin' around:
[outfit of the day]
feelin' hot hot hot
One with partial leg in the pic and one with partial foot…..oh mom and you're amazing photog skills
So while I'm hanging out, I have a lovely lot of Link Love for you all! I haven't done a link love post in awhile and my favorites page is FULL with posts and pages I've booked marked. So I thought it was perfect timing!
Here we gooooo
(<- I really don't know what at emoticon is for….so I thought I'd just throw it in and let it develop its own purpose….haha.)
note: all the pictures below are from the sites mentioned
Healthy Corn Dogs from Laptop Lunches:my obsession with corn bread has gone too far….
Finding and Working with Blog Sponsors: an interesting post I found on Katy's blog about how to best work with blog sponsors.
Snobby Joes from Veganomican on Spark People: cannot wait to try these! I've been on such a lentil kick lately!
Two posts from AMANDA!: One on how liking lower calorie/health foods shouldn't always be criticized or looked down upon and one on comparing ones food with others. Both are SO insightful!
Foods of April Pumpkin Prune Digestive Muffins: Not saying I need any help with digestion (veggies do the trick for me
), but these just sounded so yummy!
3 Ingredient Blueberry Power Muffins from Kristi: 3 ingredients!? I am ALL over that!!!!
A cardio blast from Blogilates: This was SO much more intense then I thought it would be!!! Definitely a good way to get your heart pumpin!
Angela's Carrot Cake Buckwheat Porridge: As if I couldn't love her enough….she goes and makes heaven in a bowl!!!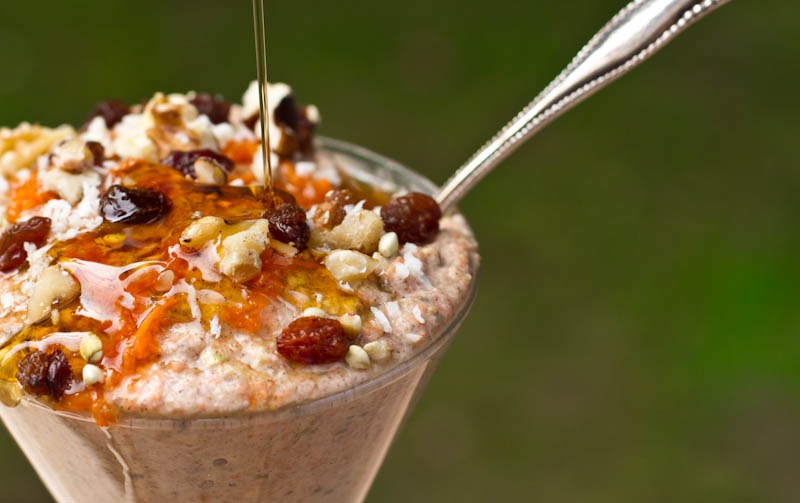 Mmmmmm delicious.
I hope everyone's weekends are off to a great start!
Remember you have until tomorrow night to enter my Rudi's FREE bread giveaway! So check that out if ya get a chance…..extra entry if you link back to the giveaway post!!!
Night All!
Kaila
Subscribe on the side. Follow me on Twitter. Ask me on Formspring.
10 responses to "Saturday Night Fever"