[Winner of my Larabar giveaway announced!! Go see if it's you!]
Well, that is certainly what this year is shaping up to be.
This is NOT the post I ever expected to write any time soon…or at all. But alas, I'm here and there's nothing I can do to change it. I officially have my first serious injury. It's painful to even type that out as I've never broken a bone in my body and have been rather lucky with athletic injuries.
Let's start from the beginning, Sunday morning I set out on a slow run to the gym and about a minute into it, I tripped and pounded by knee cap straight into the cement. I didn't really think anything of it at first…I trip all the time. But the rate at which it swelled up and just felt like 'more than a bruise' turned me right around. I have a high pain tolerance and don't usually like going to the ER….but something felt off. Something felt bad enough that it warranted further examination.
[too bad it looks 10x worse now…]
Needless to say after seeing a doctor and getting x-rays done, it turns out I have a cracked patella (i.e. a cracked kneecap). Certainly not the worst thing in the world, but for me it feels devastating. Especially because it happened in such a stupid way. I am always tripping and the sidewalks near my house are notoriously bad. But that's no excuse for me not watching where I'm going.
Right now, I have a knee-stabilizer brace to keep my leg straight and crutches as I'm not supposed to put weight on my leg. Tomorrow I am headed to an Orthopedic Specialist to confirm the crack. So I guess until then I really don't know if it's worse or better than the ER docs assumed. It floors me that I can get hit by a truck going 40mph and not break a bone, but I fall on the sidewalk and break my knee!
So where does this leave me? Well, pretty darn stuck. Obviously there won't be any running for AWHILE. And it doesn't look like I'll be doing much exercise at all. For someone active like me, who hates being cooped up inside, and uses movement as stress reliever….this sucks.
Trying to look on the bright side though. In the worst case, this will be a 6 week injury. In the grand scheme of things….6 weeks is a minuscule time in life. And I have to keep reminding myself, this is temporary. The more I embrace that, stay positive, and rest adequately, the quicker I'll heal.
I am bummed I won't be able to run the Thanksgiving Day turkey trot I signed up for, but I can get over it. I'd rather heal, recover, and come back stronger than rush things and get more injured.
In all honesty though, THIS FREAKING SUCKS. I don't want to bore you all with a long rant about how pissed I am, but I do feel the need to let off a little steam. I feel like I'm already having anxiety about this and I don't even have all the details yet.
This summer when I took a self-prompted break from exercise, I knew I was making the right decision for my body. I reinvigorated my love of fitness and discovered what works best for me. I thought I was doing everything right. I felt strong physically and mentally. So the face that this happened is so frustrating. Especially since it was such a freak accident and out of my control.
2014 is shaping up to be a year of rest….whether chosen or forced. I am going to look at this injury as a learning experience. Maybe there is some more for me to learn about myself that I didn't yet uncover in my summer exercise break. Even though this break isn't on my own terms, I just have to deal with it. (And yes, I'm trying to give MYSELF a pep talk at this point!)

One thing that worries me is losing my fitness AGAIN. I feel like I was juuuust getting back to my pre-exercise break level and was feeling confident in my abilities again…especially with running. It's seems daunting to have to take so much time off and then work to build it back up again, especially in the dead of winter. But for now, these are the cards I've been dealt and I have to take it one day at a time. (this works for so many situations!)
When I am allowed some movement, I hope I can get creative and maybe explore some things I've strayed away from before…swimming? Maybe bike intervals? But I don't want to get ahead of myself. For now, I'll try to maintain my upper body and core strength as best I can.
Another downer that just hit me is that I won't be able to do yoga…lord knows how much I need my weekly class!
But enough Negative Nancy talk for now. I'm gonna try not to think about this until I get a concrete recovery plan from the ortho. At that point I can really assess what needs to be done and what these next few weeks are going to look like.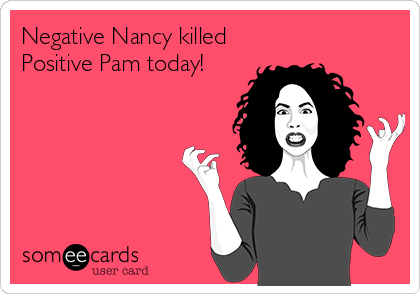 [One day. That's all you get Nancy. I refuse to let this bring me down.]
I'll be sure to update you when I know more.
And to the people that have reached out to me already, THANK YOU. I supremely appreciate it.
Now I need something from you…
Have any of you experienced a knee injury before?
How have you dealt with being injured in the past without going crazy?
 Any words of encouragement of advice? I'm desperate.
62 responses to "The Year of Rest"