Creamy, rich, tropical, and sweet! This Toasted Coconut Macadamia Nut Butter full of healthy fats, totally vegan, naturally sweetened, and paleo friendly, too. Spread on your favorite bread or dip into it with a banana for a delicious snack!
So excited to have the lovely Rachel & Bethany from Athletic Avocado guest posting for me today! These two make the BEST healthy recipes and they also happen to be the sweetest twins I know. 
Take it away ladies! 😉 
Truth be told, this nut butter was made by accident. A BEAUTIFUL mistake I mean! You see, I was actually trying to make macadamia meal with my food processor, but someone got a little blender crazy and pulsed it too long. OOPS.
This made me realize that macadamias are fully of oily goodness and don't make very good crumbs, which is a okay! Realizing that it was too late, I just blended it until it became a creamy goodness.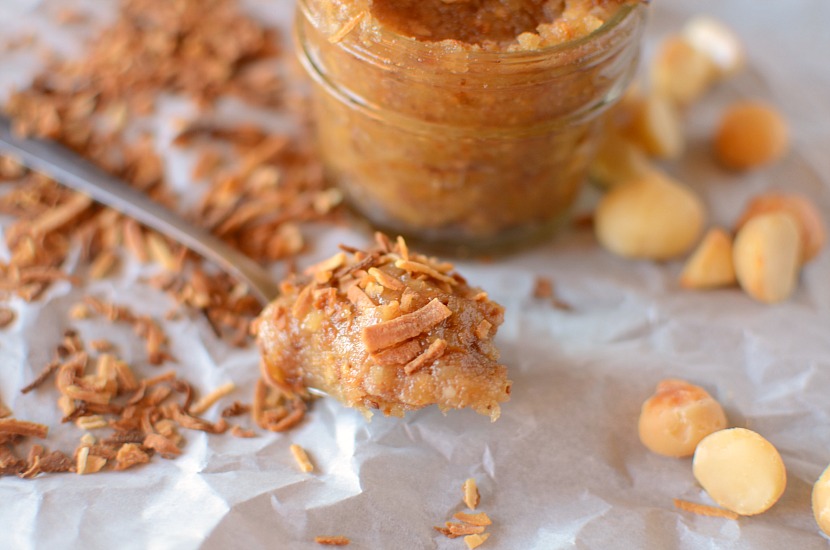 But wait, then the magic came to life. I just happened to make toasted coconut for another recipe, and I had tons left over. So aka it was like a match made in heaven, and I grabbed a handful and threw it in, along with some maple syrup and vanilla.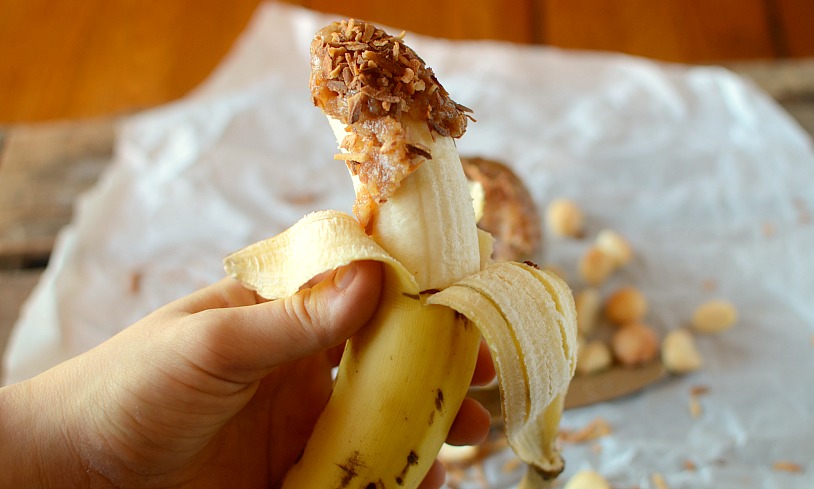 You know what they say, when one door closes, another one opens. This macadamia butter was even better than my original intention, and it all took a matter of 2 minutes, literally.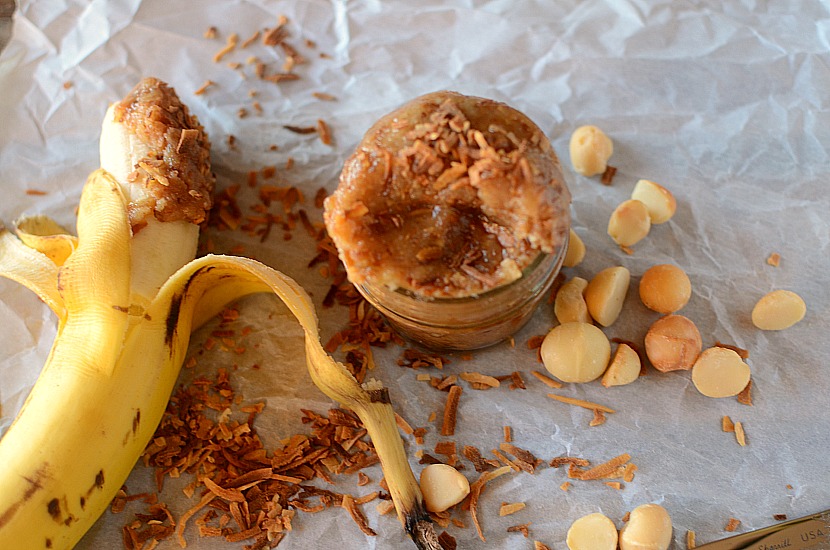 Don't get me wrong, peanut butter and almond butter are good, but this butter? Its GREAT! Unlike most store bought flavored nut butters, this version is refined sugar-free, with only 2 Tablespoons of maple syrup in the entire recipe! Crazy right?
Print
Toasted Coconut Macadamia Nut Butter
Scale
Ingredients
1 cup

macadamia nuts

1/2 cup

unsweetened shredded coconut, toasted

2 Tbsp

. pure maple syrup

1/2 tsp

. pure vanilla extract
Instructions
Place macadamia nuts in a food processor and pulse until a butter consistency.
Add in remaining ingredients, blending until smooth.
Enjoy on everything!
Kaila here! Doesn't that sound AMAZING?! I love macadamia nuts so I can only imagine how good they are blended into butter! So rich, sweet, and creamy! 
Thanks again ladies! 
    Stay connected:
Subscribe to Healthy Helper
Facebook: 
Healthy Helper
Twitter:
@Healthy_Helper
Instagram: 
HealthyHelper
Pinterest: 
Healthy_Helper
Bloglovin': 
Healthy Helper
Google+: 
Healthy Helper
Tumblr:
Healthy Helper Blog
Snapchat: KailaProulxWant to get FREE products for review and make money as a blogger?
Check out Linqia
! 
Linking up with: Allergy Free Wednesdays, #RecipeOfTheWeek,#StrangeButGood,Real Food Friday, Gluten-Free Fridays,Tasty Tuesdays,Savoring Saturdays, Healthy Vegan Fridays, Tasty Tuesdays, Meatless Mondays,Full Plate Thursday, JillConyers,Meatless Mondays!
54 responses to "Toasted Coconut Macadamia Nut Butter [vegan + gluten-free]"