Before I dive into today's food festivities, I wanted to thank you all SO MUCH for all your amazing support, comments, and feedback on
my last post
. I have to admit, this past month has been hard, but you're continued positivity towards me has been so motivating and good for my accountability. This exercise break journey isn't done yet so I hope to continue sharing my progress with you as time goes on.
Would you be interested in further updates?
For this week's I have a lovely seafood-ful recipe to share with you all! It's a go-to for a quick high protein lunch or snack and is pretty versatile as well! No matter if you have tuna, salmon, sardines, or in this case CRAB, the salad can be mixed up and adapted to suit your tastes! I am a SEAFOOD FANATIC (as you know!) so I am always looking for easy ways to sneak it in to my diet all throughout the week. This is a perfect, delicious solution….especially when you're short on time!
Check it out below…
Zesty Crab Salad for One
Keywords: entree salad sugar-free gluten-free low-carb low-sodium nut-free
Ingredients (1 serving)
1 can of crab, drained
1/2 cucumber, chopped
2 tbsp onion, chopped
6 grape tomatoes, sliced
1 tablespoon white balsamic vinegar
1 tsp dijon mustard
1/2 tsp lemon juice
1/4 cup plain greek yogurt
1 tsp dried dill
1/2 tsp Mrs. Dash Garlic and Herb Seasoning
Instructions
Mix all ingredients together in a bowl. Serve with crackers, bread, or pita!
And now for some other WIAW eats!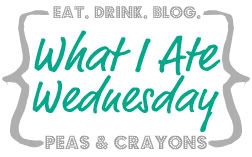 carrots//sunflower seed butter//grilled cheese
crackers with sour cream and bean dip//pear//almonds
popcorn//apple/edamame and chickpeas//dried fruit and peanut butter//kefir with cottage cheese, amazing grass, and cocoa
crab salad with crackers//steamed veggies//dip//oranges//pistachios
close up on the crab salad
turkey salad//corn tortillas with bean dip//avocado
lentil salad//black rice tortilla with cream cheese//avocado
cocoa orange SIAB
tuna sushi//kabocha//roasted veggies//pistachios
turkey cabbage salad//avocado//wasas with cheese and jam
24 responses to "WIAW: Easy, Healthy Crab Salad"