Despite being surrounded by delicious food this past weekend (Baltimore Recap 1 and 2) I haven't taken many 'meal' photos. I do however have a TON (well more like 4) of reviews to share with you all! Some of these companies were actually at Expo East and some I contacted on my own. But either way, I have been getting a ton of delicious mail lately. All four of these companies were new to me when I discovered them so I hope you'll find them interesting as well!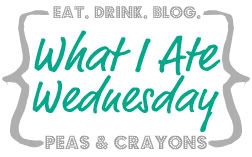 [well in this case…What I Reviewed!]
A little background info:
"MagNoodles Smart Pasta was artfully created in 1999 by Aileen Magnotto as a way to improve her family's nutrition."
The noodles are a whole grain alternative your typical white-enriched pasta and are made exclusively with Spelt and Kamut. I was really excited that these two grains were in the ingredients because they are big parts of my diet. Not only do they have amazing health benefits but I think they taste better than your typical wheat. Something more earthy and nutty about them!
If you are not used to whole grain pasta then you will definitely notice a more dense, hearty texture in this pasta. Something that I love! Its more filling too because of the higher fiber and protein content.
I really enjoyed each variety of the pasta and actually ended up making some pesto one night to sample one of them with!
The pasta flavor was perfectly complimentary to the pesto and allowed for the sauce to be the star of the show!
Thanks MagNoodle! I love the increase in healthy alternatives to old staples that are now being offered in stores!
It was so nice to be able to meet the awesome ladies behind these bars in person while at Expo East. I literally dug into the samples they gave me that SAME day because the flavors sounded so irresistible. I mean seriously…
Apple Berry Chia 
Chocolate Covered Raisins
Apple Lemon Chia
Strawberry Apple Ginger 
Mint Chocolate Chip
Another cool aspect to Star Bars is that each flavor supposedly promotes health in a different aspect of your body/mind. There is a Beauty bar, a Skinny bar, a Detox bar, a Brain bar, and even a Libido bar (<-scandalous! LOL.).
Every bar has amazing ingredients however, and you are bound to get a bountiful boost of nutrition no matter which variety you choose.
I really enjoyed the soft dense texture of the bars as well as their size. Some raw bars can be SO tiny for the amount of calories and fat they contain, but these bars are actually pretty good sized! Definitely bigger than the shrinking Larabars. Ha!
The bars are definitely sweet from the dates and other sweeteners used (like honey and coconut sap)…but the flavors from the ingredients aren't overpowered by the sweetness. I personally think the bars would be sweet enough just from the fruit they contain but the addition of the other sweeteners adds to the smoothness of the bars.
Thanks Starbars! Your flavors are so unique and the quality ingredients are greatly appreciated!
From the Bros site:
"Bearded Brothers is an organic snackfood company, located in beautiful Austin Texas. Most of our handmade energy bars are 100% organic, mostly raw, gluten free, vegan friendly and amazingly delicious. Just try them, we guarantee you will be back for more."
And back for more I shall be! As you can see from my Star Bar review above…I am a fan of raw bars for sure! Not only that but throw in some creative ingredients and unique flavor combo's and I am SOLD. Bearded Brothers pretty much accomplishes all that plus more…their packaging sets them over the top as well. HELLO reusable bags! So cool!
I was sent one of their full sized Bodacious Blueberry Vanilla bars and their 3 other flavors in bite size bars: Mighty Maca Chocolate, Fabulous Peach Ginger, and Colossal Coconut Mango.
Made with simple, recognizable ingredients like dates, dried fruits, chia, and nuts…the bars also pack a huge amount of protein (in comparison with your typical raw bar) due to the addition of protein powder. So not only do you get some satisfying nutrients from the healthy fats, but the protein content makes these bars perfect for a snack with staying power.
And the flavor is delicious too. You can easily see all the ingredients you're eating in the bars and are able to taste them as if the bar was just made fresh! The main fruit in each bar really came through in terms of taste, but what I loved was how well the flavor combinations were chosen (with ingredients like coconut, vanilla, maca, and ginger) to compliment eachother.
Thanks Bearded Brothers! Your bars a tasty, generously portioned, and full of some of my favorite healthy foods! Can't beat that.
Magic Pop
[connect with Magic Pop online: shopify , facebook, twitter, amazon
Similar to rice cakes but much more unique and versatile! You may have seen some products similar to these in your local store…but I can assure you Magic Pop has them beat because of their HUGE range of flavors! Seriously, the package they sent me was ginormous and they certainly didn't skimp on letting me try a full spectrum of products they have.
Some of the flavors I was able to try:
Original, Whole Wheat, Strawberry, Onion, Potato, Cinnamon
Bigger than a rice cake and more light and airy, the pops are perfect vehicles for all sorts of dips, toppings, and creative combos. The flavors are noticeable but not overbearing. I wouldn't recommend eating the pops on their own because they can be a bit bland and "cardboard-esque"….but with the right topping they are taken to a whole new level.
Some of the combos I enjoyed were the pumpkin with peanut butter and raisins, the onion with laughing cow and tomatoes, and the whole wheat with eggs and salsa!
But the possibilities truly are endless!
Magic Pop promotes that their products are vegan, low in carbs, low in sugar, and fat free….but what I like about them is that they are a great base for more nutritionally dense foods like nut butters, cheeses, and dips! On their own they wouldn't necessarily make a great snack (unless you were on a diet or something), but they can actually be made pretty hearty with the right accouterments.
The Deli Pops (which were pretty much rice cakes) were good too! A little plain, but again, great vehicles for other delicious foods!
Basically if you like crunch and cracker type foods, you will be a Magic Pop fan!
—-
PHEW! Did ya make it through?!
I know for some of you who aren't fans of product reviews, these posts can be a bit long and boring. But aside from my responsibility to the companies I work with, I do hope that you all at least get something out of these reviews! I know when I read blogs, I enjoy reviews because they expose me to products that I may have never been introduced to before.
Well, love em' or hate em' reviews will always be a part of my blog! They are pretty much what gave me my start after all!
Have you ever tried any of these products before?
Do you find product reviews interesting/helpful? Let me know! 
Any readers requests for upcoming posts?
Can't wait to read everybody else's WIAW posts! Faves of the week for sure.
Kaila
Subscribe on the side. Follow me on Twitter. Ask me on Formspring. Friend me on Daily Mile. Follow me on Pinterest. Like me on Facebook.
Today's Healthy Help: Cut my neighbors lawn with an old fashioned lawn mower! What a workout LOL!
9 responses to "WIAW: Eating my way through samples!"